Amirandes Facilities & Services
Crete Avant-Garde
A world of style and Cretan warmth. A sparkling exclusive resort on the coast of east Crete for the privileged and perceptive inspired by the legendary Cretan hospitality. This unique hideaway sets new standards of privacy and exclusivity.

Facilities
• Extensive landscaped grounds (70,000 m²) on the north coast of Crete
• Three sandy beaches including reserved villa beach area
• 212 luxurious rooms, bungalows, suites, villas and residences – many with private pools
• Olympic-sized seawater outdoor pool, indoor pool and 58 private Amirandes 'Star Pools' with star lights, temperature control and smooth current (in selected room type categories)
• Accommodation with designer furniture, sun beds, love seats, gazebos & private sun bathing terraces
• State-of-the-art bathrooms, including colour- and aroma-therapy Jacuzzi bathtubs
• 9 Restaurants & Bars
• Elixir Alchemy Spa with Ayurveda Centre
• Jewellery, clothing & holiday boutiques


• Library with Wi-Fi Internet
• Free Wi-Fi throughout the hotel
• Private Greek Orthodox Chapel
• Beach wedding services
• Kids Summer Camp including Grecoland with Adventure Activities, Grecobaby, Tasty Corner - free kids dining, English Lessons & Arsenal Soccer School
• Golf Academy
• 3 floodlit tennis courts
• Mini Soccer
• Outdoor amphitheatre / cinema
• Grecoland Children's Club
• 'Tasty Corner' Kids' Free Lunch Buffet
• Watersports Centre (sailing, canoeing, kayak)
• Meetings & Function spaces
• Internet Corner / TV Room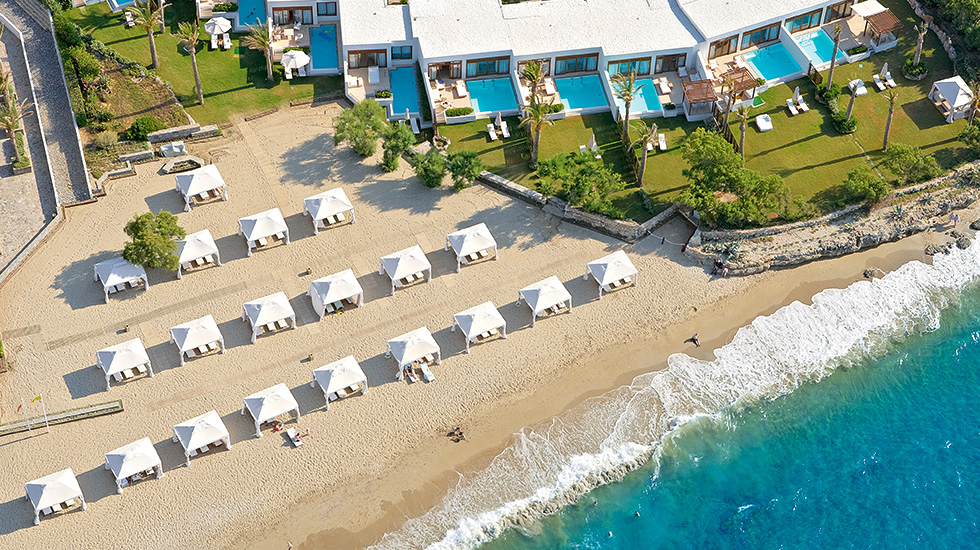 Services
At Amirandes, the management and staff are on hand to make every moment of your stay memorable. Before and after arrival, you can request any number of personal luxury hotel services from a private butler to a romantic dinner on the beach.

• Multilingual staff
• 24-hour room service
• Guest Relations & Privilege Club services
• Reception/Concierge services include: Messages, Car Rental / Excursions, Airline information, Currency exchange, Credit cards, Porter, newspapers
• Doctor on call – 24 hours
• Dry cleaning/laundry
• Postal services
• Private car park & valet parking
• Express check in/check out
• Complimentary welcome drink
• Welcome offer in room
• Electric club car service
• Business and secretarial support
• Supervised children's & teens' entertainment
• Special meals & lunch baskets upon request










• Non-disclosure agreement (NDA) upon request
• Organic produce from Grecotel's own Agreco Farm
• Luxury Transport hire (Limousine, Helicopter & Yacht)
• Private Butler
• Private Bath Butler
• Private dining options
• Private Villa Beach & pool service
• In Villa Beauty Treatments
• Catering & Private Function Service
• Humidor with cigars & newspaper service
• Full Service Beach (drinks, snacks, towels, sunbeds, umbrellas, gazebos etc.)
• Tea & coffee facilities in room
• Wine Coolers in the Villas
• Cosmetic Coolers in the Villas
• Exclusive Pillow collection in Suites & Villas









Selected services may incur an extra charge.
Famous Class Services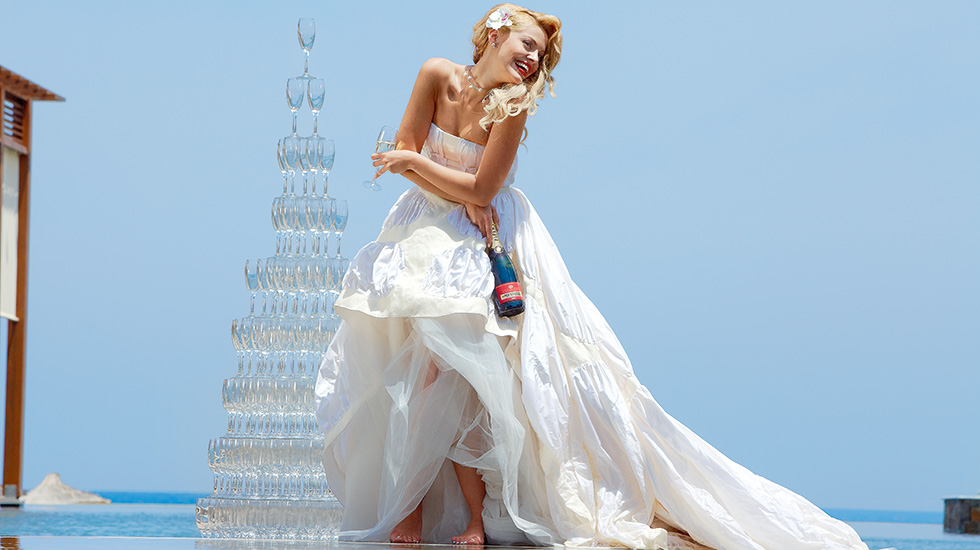 Famous Class is simply like travelling "first-class" at a Grecotel hotel!
READ MORE>
Book Online
or Call +30 28970 41103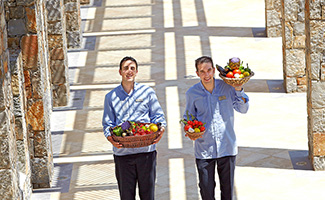 Personalised VIP Services
To ensure that you enjoy your stay with us as fully as possible, we invite you to customise your booking to suit your preferences. READ MORE


---
Hello
Beach!
Resort beach bag with towels & beach accessories!
Enjoy snacks, refreshing drinks & fresh fruit juices, relaxing under the shade of your private gazebo.
---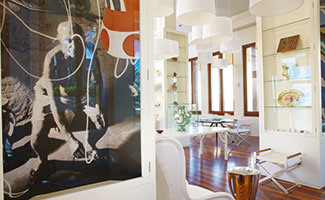 Dining @ the "Minotaur" Restaurant
An incomparable Italian restaurant of impeccable character, classic sophistication and inimitable refinements. An amazing collection of genuine Picasso ceramics adorns this unique restaurant.
READ MORE
---


Kids
are treated like celebs here
With child-size bathrobes, their own amenities, menus, discovery adventures, welcome gifts and much more! Is all about kids enjoying themselves and parents being able to relax.
READ MORE
---
Activities
From the Amirandes Golf Academy and endless Watersports, to tennis, aqua aerobics and yoga, an abundance of activities waiting everyone here!
READ MORE
---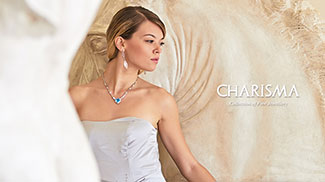 Summer Shopping
Stylish jewellery, fashion & holiday boutiques offering a luxurious selection of international brands.
READ MORE
---