Amirandes Ayurvedic Treatments for Children
Kaumara Abhyangam Duration: 30΄/25€
Nourishment of the tissues like blood, muscle, fat, bones, nerves, etc. are affected by poor eating habits, digestion and metabolic functioning. The result is that foods are not digested and properly eliminated. Undigested foods become toxic waste in the body and hamper the natural absorption of nutrients. Through this treatment, the wastes are loosened, flow to their sites of elimination and are expelled as urine, faeces and sweat. Oil application restores the moisture to the skin, soothes the nerves, strengthens the bones and nourishes the tissues.
Anna Lepa Duration: 45΄/80€
A rejuvenation technique that causes the entire body to perspire by using medicated rice cooked in herbal decoction and milk and applied all over the body with gentle oil massage. This clears the obstruction in the channels of the body, improves blood circulation, removes wastes from the body, improves complexion, strengthens digestion and restores vigour. It makes the entire body strong, sturdy and well developed. It helps to sharpen the senses.
Head Massage Duration: 30΄/20€
Head is massaged with special Ayurvedic herbal oils. Recommended for proper hair growth, dandruff, hair fall. It is good for dry scalp and headaches.
Sirolepam Duration: 30΄/20€
Specially prepared herbal paste applied on the head preceded by a gentle head massage. This is highly recommended for children with hyperactivity. This helps to calm the child. It is good for the proper development of the brain and its functions.
Siropichu Duration: 30΄/25€
In this treatment, head massage is done. Special herbal oils are then soaked on the head for a particular period of time with the help of a varthy. Very good for development of brain cells and their proper functioning.
Book Online
or Call +30 28970 41103
Μust Try
Elixir of Life:
Restoring body energy, balancing body aura, revitalizing & improving skin firmness.
READ MORE
>
Love Potion
♥
:
An absolutely sensual ritual for two to tantalize & delight! Share an unforgettable experience with your partner
.
READ MORE
>
---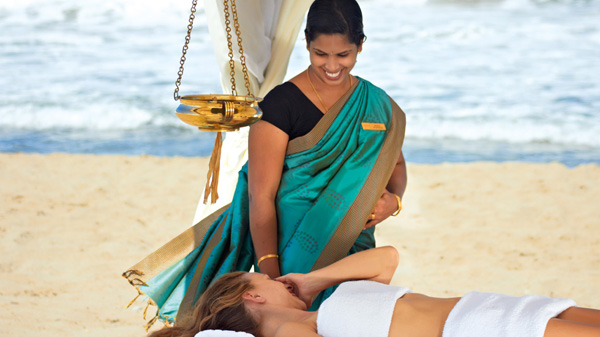 Gazebo Open-air Massage
For the most indulgent experience, the Elixir Spa therapists can arrange a massage in a beach Gazebo under the Cretan sky.
---
Monoi Tiki Oil
MONOI's moisturizing properties mean it helps to soothe the skin and protect it naturally from damage from the sun and the sea. It is the miracle product responsible for the legendary hair of the Tahitian women. Due to its relaxing properties, Monoi TIKI is ideal for relaxing massages
.
---
​
Elixir Spa therapists can arrange massages, therapies and beauty treatments in the privacy of your room, suite, villa or outdoors by your pool.

---