Amirandes Body & Soul Elixirs
Specially designed extended programmes for a truly uncommon experience and pampering in exclusive settings. They offer both ancient and modern techniques to relieve body and soul.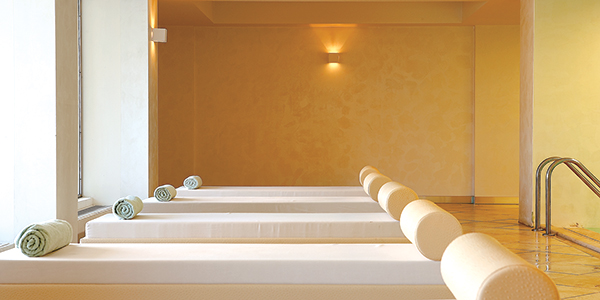 ELIXIR OF LIFE, 1 HOUR & 20'/135 €
Restores body energy, balances body aura, revitalises, moisturizes & improves skin firmness. An alchemist's secret fromAntiquity, which blends the four elements of life: water, air, earth & fire. The best-known goal of the alchemists was the transformation of common metals into gold. This exclusive skin therapy harnesses nature's most luxurious element, GOLD, and the delicate scents of wildflowers with incredible revitalizing effects that rejuvenate skin and boost vitality. Open up skin pores in the sauna to prepare body andmind for the ultimate pampering that follows. A gentle body exfoliation using a special aromatic peeling will improve body micro circulation followed by a rich golden body mask which restores smoothness, suppleness and body energy. A silky iridescent powder completes your treatment using the healing power of gold, copper and silver minerals combined with Artemisia flower extracts for deep moisturizing. In the magic of this heavenly treatment find the true Potion of Life!
ANCIENT SPIRIT ELIXIR, 1 HOUR & 20'/125 €
Slimming, body toning, combats cellulite and obesity, revitalising, increases metabolic rate. This divine full-body Elixir was inspired by ancient beauty secrets. Relax body and mind in the sauna to open the pores. Sturgeon caviar is the secret ingredient in the scrub applied to exfoliate and cleanse your skin. After an invigorating jet shower, the ultra-moisturizing caviar body mask enriched with sea minerals tones and firms skin, leaving it smooth and radiant. A rich full body envelopment with caviar essential oils follows to restore your pH balance and deeply recondition your skin. Caviar stimulates the regeneration of the skin. It possesses antioxidant properties and protects again harmful UV damage.
ELIXIR MARINE RITUAL, 1 HOUR & 20'/120 €
A journey to the sea: a three-salt exfoliation, made of selected salt for their
richness in minerals and trace elements release epidermis from dead cells. Followed by a re-mineralising seaweed wrap and a regenerating massage using beeswax and essential oils. The laminaria body wrap regulates the metabolism, re-mineralizes, moisturizes and protects the skin.
AROMA MASSAGE, 50'/85 €
A complete body treatment using essential oils made
from plant and herb extracts. The oils have either
detoxifying, stimulating or relaxing properties chosen
to suit individual needs. The aroma from the oils has a therapeutic effect, inducing a feeling of well-being.
RELAX MASSAGE, 30'/55€ - 50'/75 €
Body massage performed with special combination of
calming oils to relieve tension from your back, neck
and shoulders. This wonderful soothing treatment has
amazing relaxation and serenity properties and improves
the nervous system.
LYMPHATIC MASSAGE, 30'/55€ - 50'/70 €
A detoxifying treatment performed specifically on legs. It activates the lymph glands to flush out liquids, thus making the muscle tissue firmer. Ideal for combatting cellulite and stimulating your body systems.
KIDS MASSAGE, 20'/40€ - 45'/75 €
A unique treatment specially designed for children. Touch is a natural healing therapy. The Kids Massage is ideal for boys and girls aged 5 to 16 years. Natural hypoallergenic oil is applied with a gentle massage. The qualified therapists gently massage the muscles and joints (hands - back - legs - face - neck - scalp - hair). Regular treatments help to reduce tension and offer a sense of relaxation resulting in tranquil, restful and quality sleep. The massage stimulates the immune system, moisturizes the skin, helps in muscle and bone development and enhances movement and flexibility. Treatment for youngsters and teenagers provides a sense of relief and security, while regular use can help the child gain balance and maturity.
HEAD & FACE MASSAGE, 20'/50 €
This relaxing massage performed with essential oils
on the pressure points of the neck, scalp, ears and face
concentrates on soothing away tiredness, stress and
tension. A wonderful treatment for headaches, stiff
and tired muscles as well as obtaining harmony to
body and mind.
Book Online
or Call +30 28970 41103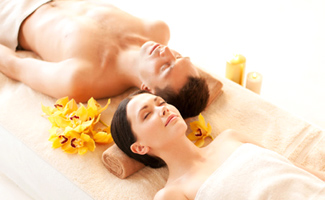 Love Potion
♥
An absolutely sensual ritual for two to tantalize & delight! Share an unforgettable experience with your partner
.
READ MORE
>
---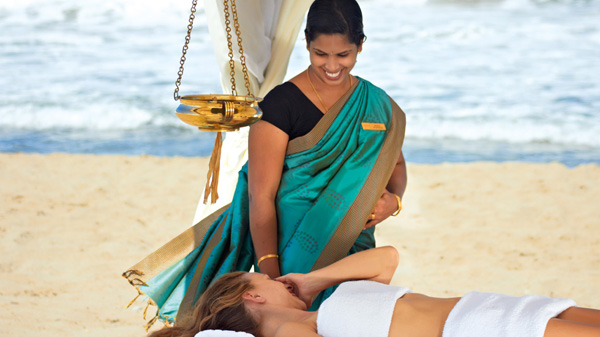 Gazebo Open-air Massage
For the most indulgent experience, the Elixir Spa therapists can arrange a massage in a beach Gazebo under the Cretan sky.
---
Monoi Tiki Oil
MONOI's moisturizing properties mean it helps to soothe the skin and protect it naturally from damage from the sun and the sea. It is the miracle product responsible for the legendary hair of the Tahitian women. Due to its relaxing properties, Monoi TIKI is ideal for relaxing massages
.
---
also check
Amirandes Massage & Therapies