Minotaur, Gourmet Italian à la carte fine dining
Pablo Picasso drew himself as a Minotaur, the mythical half-man half-taurus(bull) creature that lived in the Labyrinth of the palace of Knossos, a few kilometers from Amirandes. He adored ceramics and created them for 25 years (1947-1973). An amazing collection of genuine Picasso ceramics, adorns the new Amirandes unique restaurant, the "Minotaur" in honour of ancient ceramic art and the way it inspired the masters of the 20th century.
At Minotaur, truly stylish Italian food is our speciality. Located by the star-lit lagoon, Minotaur is an incomparable Italian restaurant of impeccable character. It embodies Italian style – classic sophistication and inimitable refinements. Discover an amazing collection of genuine Picasso ceramics.
Open for: Dinner (with reservations) | Cuisine Type: Authentic Italian | Seating: Indoor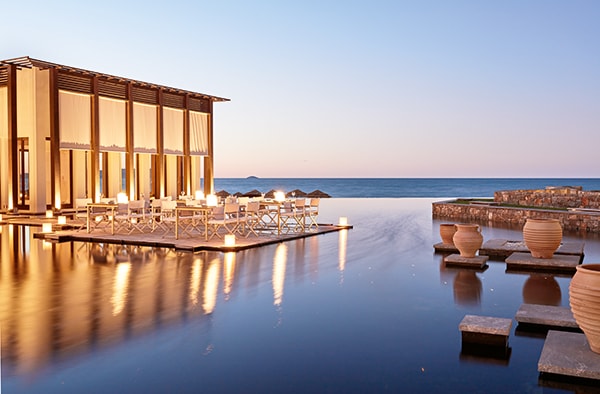 The ultimate dining experience at Amirandes Floating Deck
Romantic dining by the star studded lagoon with an international a la carte menu inspired by its spectacular waterfront setting. Indulge in the selective wine list.
NOTE: Please inform the hotel staff in advance of any allergies or intolerances you may have. Our menu might contain traces of allergenic substances.
Book Online
or Call +30 28970 41103